The only newspaper that puts Gilroy first now needs your help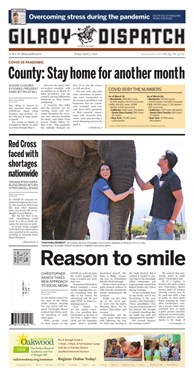 The Gilroy Dispatch has served residents of Gilroy for more than a century and a half—since the Wild West days of 1868. It continues to probe issues that affect Gilroy residents, along with the people and events in the unfolding story of Gilroy.
The Dispatch this year was awarded a first place award for Breaking News coverage of the Garlic Festival shooting and a second place award for In-Depth Reporting on the aftermath. And last year the Dispatch took home the state's most prestigious award: General Excellence.
A strong community depends on good local information for its citizens, and the Gilroy Dispatch provides that. Help us maintain a staffed operation at our downtown Gilroy offices to give the South Valley's largest community the coverage that it deserves.
Your contribution to quality local journalism—what the state association considers some of the best in the state—will go a long way towards making one of the region's best communities even better.